Delivery
Standard Home Delivery
Delivery service to front door of house/building

The carrier should automatically schedule delivery for 2 working days after dispatch and advise you of the delivery date directly

The day before your scheduled delivery, you should receive a 2 hour time slot
White Glove Delivery
White glove delivery is our premium delivery service for furniture items. It includes delivery to the room in which you need your item located, careful placement, assembly and installation, plus removal of any packaging.

You will receive a text message, an e-mail or a phone call from the delivery company to confirm your delivery slot in advance. Delivery slots will be made available 8-15 days after the dispatch date.
International Delivery
For furniture and larger items we will first need to obtain an international shipping quote from our delivery partners. Please speak to an expert on +44 1472 233111, or email concierge@stevensonsgroup.co.uk.

Please be aware that international delivery may also incur local taxes and import duties. These are the responsibility of the recipient of the goods on arrival in the country of delivery.
Returns
Standard Returns Policy
No-hassle returns accepted within 28 days of receiving your item.

If your item is faulty or damaged, please get in touch to arrange a free return. If your item is not faulty or damaged, you will be responsible for the cost of return.

To be eligible for a return, your item must be in the same condition that you received it, unused, with tags, and in its original packaging.
Price Match Promise
We check our prices regularly against other retailers to ensure that they are highly competitive. However, if you see an identical item cheaper on another site, please let us know and we'll be happy to match that price for you.
1 Year Guarantee
Your piece is covered for 1 year.

Our 1 year guarantee is valid for domestic use only, and covers manufacturer defects and structural breakage.

It does not include issues resulting from normal wear and tear, improper care, or accidental damage.
Dispatch
Standard Dispatch
Dispatch is when we ship the item to our delivery partners who handle final delivery.

Delivery should happen within 5 working days of dispatch for mainland UK (and up to 14 days for Offshore, Highlands and Islands).
Express
Need something fast? Items marked as express are dispatched within 2 working days or less. Shop our express items here.
Delivery
Description
 The Terminal design console table is suitable for different spaces and living needs. It can be placed as entryway table or hallway table, or in any room of the house as a functional yet decorative piece of furniture. The Terminal console table stands out for its finely selected design, for its quality and its range of raw materials. Terminal Keramik Premium, pays tribute to the marble top console tables. The refined Marmi ceramic top is available in several exclusive nuances enhanced by the elegant Brushed Bronze or Brushed Gray edge finish.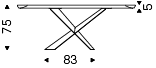 Details
Dimensions
Small 130x48x76h | Medium 160x48x75h | Large 200x48x75h | Extra Large 240x48x75h
Leg material
Brushed Bronze or Brushed Grey lacquered and rounded lower profile. Wall anchorage is necessary.
Top material
The refined Marmi ceramic top is available in several exclusive nuances enhanced by the elegant Brushed Bronze or Brushed Gray edge finish.
Weight (kg)
54 | 68 | 78 | 87
Skip to product information
Description

 The Terminal design console table is suitable for different spaces and living needs. It can be placed as entryway table or hallway table, or in any room of the house as a functional yet decorative piece of furniture. The Terminal console table stands out for its finely selected design, for its quality and its range of raw materials. Terminal Keramik Premium, pays tribute to the marble top console tables. The refined Marmi ceramic top is available in several exclusive nuances enhanced by the elegant Brushed Bronze or Brushed Gray edge finish.

 

Details

Dimensions

Small 130x48x76h | Medium 160x48x75h | Large 200x48x75h | Extra Large 240x48x75h

Leg material

Brushed Bronze or Brushed Grey lacquered and rounded lower profile. Wall anchorage is necessary.

Top material

The refined Marmi ceramic top is available in several exclusive nuances enhanced by the elegant Brushed Bronze or Brushed Gray edge finish.

Weight (kg)

54 | 68 | 78 | 87
Terminal Keramik Premium
Sale price
£

2,079
Regular price
Unit price
per
Base Colour
GFM69 Graphite embossed
Top Colour
KM02 Alabastro